Petite, lean, cute as a button, Alexis Venton is one of the freshest teen faces in porn. This little nympho has been in horny heaven since 2012, getting paid to take fat cocks on screen. Alexis is a gadget-freak, and enjoys collecting all the newest techy toys and gadgets. If you immediately thought of thick, whirring vibrators, then you're right, she's also an avid sexy toy collector, and can't go more than a couple hours without sending her hands down south to rub one out. Alexis also has a real wild side, which comes out in a love for animal print on almost everything she owns. Even better, she gets off on bedroom role-playing, especially dressing up as strong superheros who love to get their pussies pounded.
Latest Updates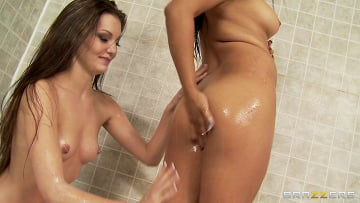 16th July
- It doesn't get any better than working as the custodian at ZZ Academy. Those cheerleaders are the hottest around, and so free with their bodies, they
don't give a fuck who sees them stripping down and showering. When teen hottie Alexis Venton and her friend realize they're being watched in the shower, they start putting on a steamy show. Keiran is so busy spying on teen titties, he doesn't notice Alexis sneak around to surprise him and beg for a hard fuck.
...Read More