Alyssa Divine realized halfway through her first porn shoot ever in 2012 that she had found the thing she really wanted to do with her life. It just fit, and this brazen babe has enjoyed a successful run ever since. "I absolutely love sex and I'm a real exhibitionist, I just love showing off my body." It's not hard to see why: she's toned, smart, and curvy in all the right places. Before she got her start in porn, Alyssa worked as a barista in cafes. She loved the daily grind of serving up tea and coffee, and chatting with regulars. In her spare time, Alyssa's into collecting frilly lingerie, and all kinds of sexy clothes that feel exciting next to her skin. Porn has also kicked off for Alyssa a real passion for photography, so keep your eyes peeled for the success she's sure to have on the other side of the lens.
Latest Updates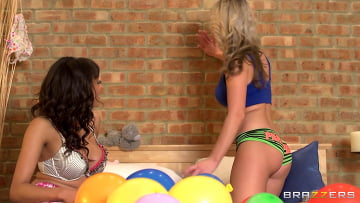 18th June
- Danny D's neighbors are bratty teens who just want to party and make noise, when he's got work to do. He tries to be polite about it, but it backfires
. The only way to fix it is by going over to Alyssa Divine's place and tiring her out with his big cock. Once she's been given the best fuck of her young life, we'll see how much of a fuss she's able to make.
...Read More