As her last name implies, Amber Chase enjoys a great many pursuits. Perhaps surprisingly, only some of these include eating pussy and sucking cock! Born in America's Pacific Northwest, this hometown hottie left school in the 10th grade to explore the world, and the shape of herself in it. Amber would return to the education game, however, and later obtain a bevy of degrees, including a BA in Art History, a BS in Anthropology, and a Master's in Public Administration, with a focus in tribal governance and rural development. Of course, it's no surprise to her fans that Amber would dominate education, given how much control she commands in the sexual arena. Before she became one of porn's most arresting and versatile dominatrixes, Amber self-started her career in the industry by producing, shooting, and distributing her own pics and videos. This old school approach led to a wealth of new school success, as Amber continues to swell her online presence by working with the best performers, directors, and creators in the business. That sense of collaboration is hugely important to Amber in every aspect of her life, whether it's creating works of art that hang all over the world, writing books and graphic novels, or in pursuing her dynamic list of hobbies, which include long-boarding, belly dancing, hiking, and even knife throwing! In a world of cookie-cutter copies, this newly-buxom bombshell has blazed a unique path, both in life and in her sex-positive, largely femdom porn. To miss the sensual journey that is Amber Chase would be a fool's errand indeed.
Latest Updates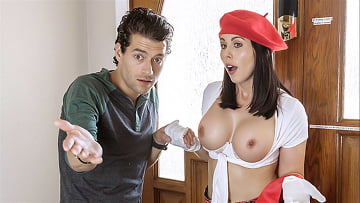 14th June
- The Lady Rangers are having a contest—the girl who sells the most cookies gets to go to space camp. Unfortunately, Amber's daughter broke her foot l
ast week and can't go door to door to sell enough cookies. Not wanting her to miss out, Amber slips into her daughter's too-small uniform and goes door to door selling cookies herself. Willing to do whatever it takes to make the sale, Amber pulls out all the tricks in this MILF's handbag. Like the perfect showcase model, Amber entices Xander into buying all her cookies, giving him her own cookie as an added treat. They have a hot fuck that finishes in a quick glaze of Xander's own special icing. Delicious!
...Read More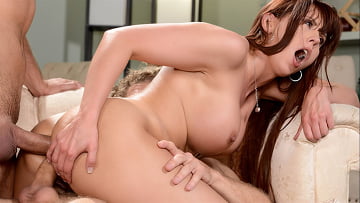 5th June
- Sweet girlfriend Amber spends her day off with the love of her life, Billy. The two are almost inseparable… and in the brief moments when they aren'
t together, Amber transforms into the messiest slut imaginable. Billy reveals to Amber that he wants her to move in with him. To celebrate they decide to hop into a Zuber taxi to go and buy some furniture. Amber uses that opportunity to get some last minute dicking before her relationship gets really serious.
...Read More