As soon as we found out about Anita Toro, a brand-new Colombian starlet making waves for her steamy performances and killer curves, we just had to get her in the studio as fast as possible. In 2010, Anita started her porn career at the ripe age of 18, with hardcore appearances right off the bat. This sultry Amazon hasn't been wasting any time, in a few short years she's founded and managed several websites for herself already, and returned to college to work on a degree in Communications. She thinks it's hilarious and awesome when her fans tweet her pics of their cocks, especially if it's right after they've rubbed one out to her scenes. If you're still not convinced Anita's a porn star to watch out for, then you should know her booty's so fine it's even landed her photoshoots with Snoop Dogg.
Latest Updates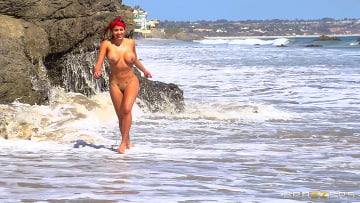 9th August
- Anita's spending the day at the beach, catching sun on her epic curves. Her fuckbuddy Keiran's supposed to meet her later on the beach for a raunchy f
uck session. In the meantime, Anita's keeping her hands busy rubbing oil on her bronzed body and lounging in the sand. Once she's done splashing around in the salt ocean, Anita races back to her beach-side bedroom to enjoy every inch of his fat cock.
...Read More