Not even the most hardened porn aficionados can resist Avery Adair's adorable smile and cute apple cheeks. With her bubbly personality and quirky sense of humor, this fresh-faced teen is a shining beam of light in some of the darkest and dirtiest corners of the internet. She's brand new to the industry, but she's already had her pretty face covered in cum by some of the wildest dicks out there. And she's loved every minute of it! When Avery isn't putting her epic blowjob skills and dripping wet pussy to good use, this tall, athletic hottie is a serious gamer. She spends most of her time with her controller in her hands and her big brown eyes focused on the screen. So if you're on the hunt for a nerdy little slice of heaven, then Miss Adair is definitely the angelic cum-lover for you!
Latest Updates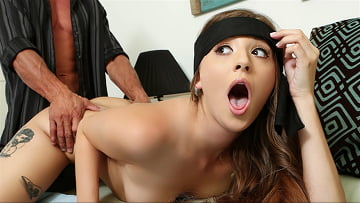 21st September
- Avery's excited to catch some dick at a big frat party, but her mom's boyfriend refuses to let leave the house dressed like a slut. Dying for some coc
k, she arranges for a fuckbuddy to drop by instead, but Tommy kicks the guy out. Furious she would disobey him, Tommy marches up to Avery's room to yell at her. But the sight of her blindfolded and waiting for a big dick melts his heart and hardens his cock.
...Read More