Like any modern European slut, Aylin Diamond is really into fashion. Whether it's fur coats and pearls or leather and stilettos, this stunning starlet's style is always on point, even down to the lacy lingerie she's got hiding underneath it all. Her closet is so full of the world's finest labels that it's about to burst, so you'll never catch Miss Diamond in the same outfit twice. Every last hem has to be perfect, because when you live the high life like Aylin does, you have to be prepared for any sexcapade to come your way. Spontaneous, free-spirited, and just the right amount of wild, this lovely lady is the very picture of that Euro hottie that every American tourist dreams of meeting, and with sexy skills like hers, you're sure to have a story to tell after a night with her.
Latest Updates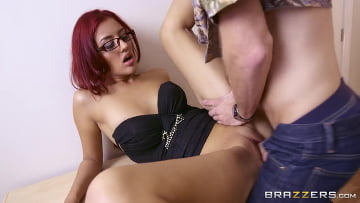 17th October
- Danny D has decided to rent a room at the home of Aylin Diamond, a sexy but shy redhead who's in for a treat! Danny, in need of getting laid, decides
to charm the pants off of Aylin, who is also down to fuck nice and rough. Suddenly Aylin's shyness disappears and her true slutty nature takes hold of Danny's cock, sucking and fucking him till she's covered in cum!
...Read More