Baby Jewel is feeling pretty blessed these days, as she watches her naughtiest fantasies coming to life in Porn Valley. Ever since she watched her first porno, this adorable Hungarian has dreamed about filming smut that would make it to an American audience. With her cute rosy cheeks, flawless skin, and devious smile, Baby has got the girl-next-door look down to a tee. She has always known that if she could only get her scenes to the States, red-blooded American men would go insane for her sweetheart vibe. As luck would have it, Brazzers scouts stumbled on this naughty treat while scouring Eastern Europe for sexy sluts. They whipped out their cameras, captured Miss Jewel giving one of her signature sloppy blowjobs, and brought the footage back to the US to give Baby the American boost she's been dreaming about. So if you're into pretty brunette good-girls with perky tits and mischievous eyes then check out all of this little temptress's scenes today.
Latest Updates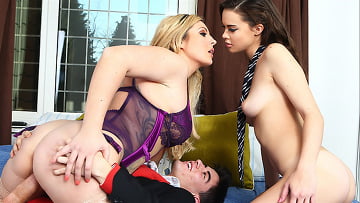 23rd March
- Baby and her boyfriend Jordi are ready to fool around after school, but Baby's slutty stepmom Ashley is home. She doesn't want Baby fucking her boyfri
end so she makes her stepdaughter leave her bedroom door open while the young couple "studies." Baby doesn't care, she's going to fuck Jordi anyway! What she doesn't realize is how badly Ashley wants Jordi's dick for herself.
...Read More