Self-professed horny housewife Barbi Sinclair has a massive sexual appetite and a husband who loves to watch other men satisfy it. Barbi loves sex in public, especially when it's spontaneous, and confesses she'll leave the house in a miniskirt with no panties, because she loves how much attention she gets. When she's not walking around looking for strangers to seduce or casing out perfect public sex spots, she's busy playing volleyball, racquetball, tennis, or working out. Once she got her start in porn in 2006, this naughty MILF left Poland to move to Sin City, and has now filmed over 300 scenes. Just like the doll of the same name, Barbi has a tight and tiny body, great tits, and long blonde hair. We hope this talented babe with a voracious appetite sticks around for a long time.
Latest Updates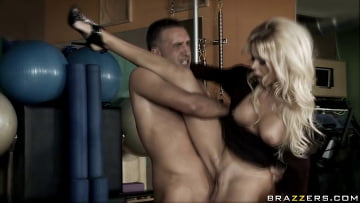 15th June
- Keiran is about to get hitched. Everything is ready, except...he doesn't know how to dance. Lucky for him, his buddy knows where to send him. Barbi is
one of the top dance instructors in the country, and she knows what it takes to teach a man to dance. She'll teach him how to tango, how to salsa, and how to have sex with your dance teacher.
...Read More