As loveable as she is lusty, Blair Summers is the kind of gal you dream of holding close at night just as much as you fantasize about fucking her brains out. Okay, almost as much... but you get the picture! A former veterinary technician who realized her caring touch and incredibly sexy body would serve others better as a porn star, Miss Summers is a true sweetheart. That is, until you get her in front of the camera! Fresh-faced and freaky with a sparkling smile and permanent fuck-me eyes, Blair's angelic looks are perfectly balanced by her deliciously sinful attitude. Plus, with her cum-worthy cocktail of Puerto Rican, African-American, and Caucasian origins, this naughty knockout's got the type of uniquely stunning features that pervs around the world will have trouble getting out of their minds. And just wait 'til you've seen her body! Slim with curves in all the right places, Miss Summers is blessed with one of the plushest, perkiest pairs of all-natural tits and ass we've ever seen, while her fleshy thighs just beg to be spread wide. So check out Blair Summers' cock-stiffening clips right here on Brazzers, 'cause although she just got into the biz in 2015, this naughty knockout's already taking the Latina niche by storm!
Latest Updates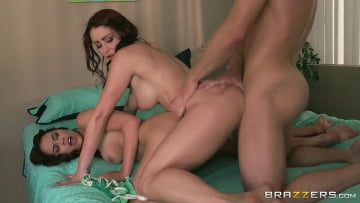 24th June
- Monique's gardener Michael has just finished work for the day and heads inside to wash up. On his way to the bathroom he spots Monique's stepdaughter
Blair masturbating in her bedroom. He can't help but jerk off while he spies on her rubbing her sweet, young pussy. He's so distracted by her that he doesn't notice Monique approaching. Instead of firing him she covers his mouth and jerks him off while they both spy on Blair. After they watch Blair make herself cum hard Monique teaches him how to fuck her stepdaughter.
...Read More