Some girls like it rough. And then there's Brittany Bardot. Born in the Czech Republic, this amazing Amazonian star is as tough as they come and is always at the ready to take on a new physical challenge. "Destroy me?" she asks with a daring smile when faced with a rough-and-tumble scene, "Nothing can destroy me." And so far, she's been absolutely right. Blessed with a strong, sinewy frame, she's chiseled a bountiful body bred to handle the fiercest, most savage cock pounding in the industry. But just because she braces herself against all that hardness doesn't mean Brittany is without a soft side. Her super-girly beauty and nature shines through in every scene she does, and especially in her active life on social media. She regularly features herself trying on the latest fashions, slinking around seductively while slipping into and out of fine linen dresses and silk slips for her fans. And whether she's taking a hot, huge strap-on dildo or on the receiving end of a hard double penetration, Brittany Bardot brings an elegance to deviance, with a unique look that has already set her apart as a true international star!
Latest Updates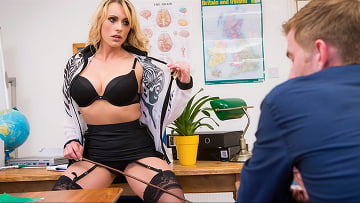 18th July
- Danny is the only student to show up to the new substitute teacher's class. Everyone skipped except him, and sub Ms. Bardot is very grateful. She tell
s him she wants him to be the teacher, and she's been a naughty girl. They take advantage of the empty classroom and he fucks her rough, just the way she likes it.
...Read More