Now here's a juicy set of fuck-me thighs guaranteed to stop you in your tracks! If you see Brittany Shae crossing the road, do yourself a favor and pull over, because as long as that galactic ass is in sight, you're no longer safe to drive! Hailing from the lusty, sleaze-ridden coast of beautiful Miami Beach, Florida, Brittany has been bobbing for cocks so hard, she's made it to the front page of the internet in less than a year. Even though Brittany was at first hesitant to try ass play, not sure if it was her cup of tea, she's now eagerly spreading those cheeks for whomever is willing, always leaving set a happy gal! Now an ass-taking superstar, Brittany is a professional dick-sitter set on rising in rank via hanky pank. Destined to become famous, Brittany will do girl-on-girl, boy-on-girl, five-boys-on-girl, two-fists-in-girl, and pretty much anything else you can think of - there are no limits when you're an anal craving cock junkie of this magnitude!
Latest Updates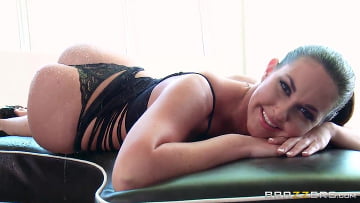 28th September
- Brittany Shae is known throughout America as a girl with an ass that just won't quit. From sea to shining sea, Brittany has steadily carved out a repu
tation as one of our nation's most prolific dick takers, particularly the anal variety. You see, there's nothing Brittany enjoys more than getting her butt oiled up for a nice robust ass fucking, which just so happens to be a Chris Strokes specialty. Buckle up USA!
...Read More