Cute alt chick Callie Cyprus is a rocking little babe with sweet trendy tats. Sporting leopard spots and a killer zombie on one delicate arm, she pulls hot and nerdy easy when she throws on her hipster glasses. We suspect she only does it to tease us with face-shot fantasies on those oversize geeky frames, because when she slides them off, her face is 100% vixen material. Her long and slender teen waistline is a lovely natural result of her exotic heritage. Callie is a sexy mix of Hawaiian, Chinese, and Italian ancestry and we have to say, the results were spectacular.
Latest Updates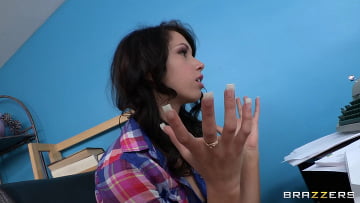 30th May
- Callie is a struggling writer. This is mostly because she's terrible. However, her dream is to get published, so she tries to convince Jordan, her sib
ling's friend, to see some potential "inside her."
...Read More