Growing up in a small town in Hungary, Candee Licious couldn't wait to travel the world in search of hot sex and scandalous adventures. As soon as she turned eighteen, this fresh-faced blonde packed up her g-strings and took her adorable booty to Europe's fastest growing porn hub: Budapest. There, she bloomed into a cosmopolitan cum-slut, opening herself up to all the filthy perversions Euro porn has to offer. Candee's vast repertoire of naughty acts have set her apart from all the other Hungarian babes looking to make it to Porn Valley. So if you're looking for a tasty Eastern European treat, then look no further, because Miss Licious has landed at Brazzer's HQ, and she's ready to get her sweet little pussy pounded by the world's biggest and meanest!
Latest Updates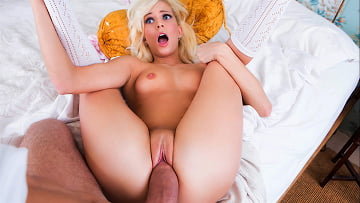 11th February
- While exploring her family's new home Candee Licious discovers a dusty old book and learns of the legend of the Dick Fairy (Chris Diamond). According
to ancient lore, all Candee has to do is put a dildo under her pillow and the Dick Fairy will come in the night to give her a proper fucking with his massive magic fuck stick. Later that evening, Candee discovers that the man matches the myth as she takes the most ferocious fucking of her life.
...Read More