If you've ever heard of "blowjob-lips," and wondered where that magical term came from, look no further than Charity Love. Though her name may seem perfectly designed to trip up search engines, go a little deeper and you'll find a Latina honey whose mouth has more room than a hotel lobby. You see, Charity is something of a deepthroating magician, no matter how large the cock, she can make the whole thing disappear into her throat. This Cuban-American porn star has also gone by the names Scarlett Jolie, Margarita, and Charity Lane, since she started in 2006. Charity may come in many guises but you'll always recognize that juicy bubble butt and sweet cocksucking mouth.
Latest Updates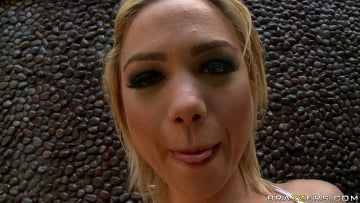 29th July
- Russian Goddess Charity Love pops her Brazzers cherry in this hot and hardcore video that shows this blonde bombshell getting her tight little asshole
fucked six ways to Sunday from the one and only Mick Blue!
...Read More