Chloe Carter is that rare mix of hot chick: a classic beauty draped in tattooed rockstar chic. She's Megan Fox meets Bettie Page - but sluttier - all wrapped up in a tiny, but infinitely fuckable 5'2" frame. In other words, she is perfection; a raven-haired wet dream in milky skin, dipped and swirled in delicious ink. It's no surprise that someone this hot would be a huge fan and aficionado of hot sauces; further evidence that this Dallas-born, North Carolina-based babe is setting the porn world on fire right now! But what is perhaps shocking is how super chill Chloe is. Her zen is a heady combination of astrology (she's an Aquarius FYI), getting her nails done, and frequenting the world's finest sushi bars as often as humanly possible. Still a relative newcomer to the scene, Chloe is keeping everyone waiting on bated breath for more scenes featuring her sultry almond eyes, her smooth body, and that tight bubble butt. And with the name "BumFuckPrincess" gracing her social media channels, there's a very good chance that she's got big things in store for everyone!
Latest Updates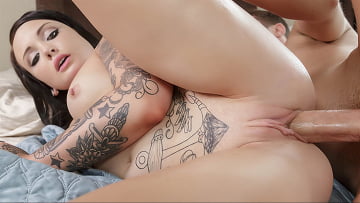 24th May
- Chloe is bored! She goes into her stepbrother's room to see if he wants to chill. When she gets there she finds him napping, but his sheets are making
a massive tent and she's very curious. She pulls the sheets off him and sees that he has a big cock, and decides to put it in her mouth. Jessy wakes up shocked and pulls away. He finds it weird but can't say no once his stepsister crawls in bed next to him and starts teasing him with her soft young tits and pink pussy.
...Read More