"I'm the new anal Queen" said sexy Spanish babe Clarita Gold on twitter, and that should let you know just how much of a horny slut she really is. Fit, flexible, and freaky, Clarita can bend her gorgeous body into any position her partner's perverted mind can dream up, and look damn good doing it. At 5'8", she's got a gorgeous slender build and long luscious legs that she loves to spread for the fattest cocks she can find. Her olive skin, thick juicy Latina booty, and gorgeous green eyes set this lusty lady apart from the competition, and her love of anal just makes her that much hotter. Her perky natural tits are just the right size for sucking and squeezing, and they bounce around beautifully as she's getting fucked. When you can't find her fucking on film or rubbing her pretty pink pussy in a cam show, you can probably find Clarita shaking her booty to some raggaeton, hip-hop, or electro down at the club. So make sure to keep all eyes on Clarita, because this beauty is heading straight for the top!
Latest Updates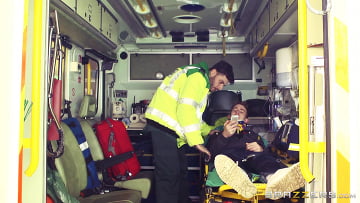 6th April
- Here at ZZ HQ, we take the well-being of our stars very seriously. That's why every Brazzers stud has his very own Brazzers Health Care plan, ensuring
that no matter what happens, he always has access to the kind of tender loving care that only our trained, licensed, and professional naughty nurses can provide. So when Danny D was hit by a careless driver, with one quick push of a button, he was whisked away to the caring embrace of lusty Latina Clarita Gold. Clarita took one look at Danny's delicate condition and delivered her recommendation for treatment: take three wet holes as needed! Clarita took Dany's huge cock deep in her mouth, pussy, and even her tight little asshole, then took a huge facial blast, because when you have the Brazzers Health Plan, it's nothing but the best!
...Read More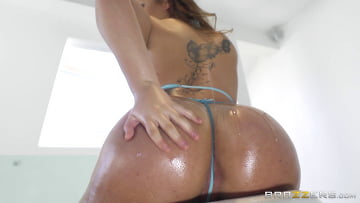 2nd March
- You wouldn't be here if you didn't like your butts big, round, and slathered in oil! Today Clarita Gold is serving you up a huge, juicy piece of ass,
and she's not holding anything back. Check out what goes down when she meets up with woodsman Danny D for the hardest, rawest ass-fucking of her entire life. Dude rubs and smacks the bangin' cheeks of that booty, tenderizing the meat before slamming into her with that massive man-hammer until she squeals with pleasure.
...Read More