Standing at 5'10, Danielle Maye boasts some of loveliest, longest legs in porn. Those shapely stems start with a pair of slender pedicured feet and go all the way up to her curvy hips. Statuesque and poised, this blonde babe literally stands head and shoulders over the competition, but it's her glamorous vibe that really makes her shine. New to the American market, Danielle is already turning heads with her smokin' hot body, sultry eyes, and expert clit licking skills, and we're so happy she's decided to put her scintillating assets to the test right here on Brazzers. She's kind, generous with her time, and, best of all, she's hungry for pussy, making lovers and fans alike cream their jeans with just one flick of her nimble tongue.
Latest Updates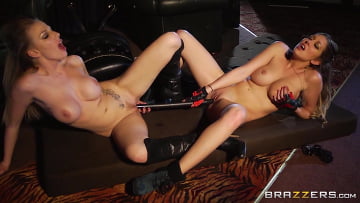 27th May
- These mean streets have two bodacious blonde superheroes defending the people against the terror that awaits them, but Nite-Fox (Danielle Maye) and Lu
pus (Lexi Lowe) can't seem to get along. Facing the dreaded Union Jack, these two big-titted Brits battle for the chance to make the final blow, but their fighting soon turns to fucking as they strip down to their boots, get nice and wet, and scissor like two lesbian sluts. In need of some penetration, Lupus grabs a long pole, shoves one end up Nite-Fox's tight twat, and rides the other end with her own wet pussy. These two badasses finally set aside their differences, working together to achieve mind-blowing orgasms, the likes of which have never been seen before.
...Read More