Gauge may be a dirty little fuckdoll in the sack, but she's also a Dixieland belle with proper manners and Southern hospitality. This pint-sized porn star began filming hardcore scenes in 1999, when she turned 19 years old, and had a blast getting paid to get fucked. She's a naturally gifted cocksucker with soft, sensual lips, and a throat as roomy as a hotel lobby. In 2007, she decided she wanted to take a break from filming and acquire some new skills. After a few years away, Gauge knew she missed the exciting porn life and a steady supply of fat cocks, and had to make a comeback. We're very excited to have Gauge filming fuck scenes with us again, and can't wait to see this little hottie in action.
Latest Updates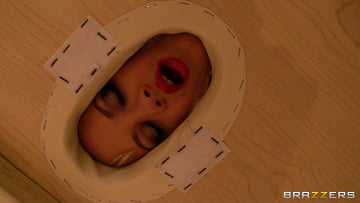 20th September
- Keiran may come highly recommended by all her friends, but Gauge is not at all sure what to expect from her first touch massage. With gentle music pla
ying, he sits her down on the table and lays his expert hands on her sensitive spots and pressure points. Once she starts to relax and wetness floods her pussy, she begins really craving his fat cock to bring her to an orgasmic nirvana.
...Read More