Houston is a pornographic legend. You would never think, when watching one of Houston's notorious triple penetration scenes, that you were watching the granddaughter of the man who illustrated Snow White for Disney. Not only a famed performer and media star, Houston has even released her own single and sang at the House of Blues. Having done appearances in music videos for bands such as the Kottonmouth Kings and Sum 41, she has been on a variety of talk shows such as The Jerry Springer Show and The Howard Stern Show. Most famous for breaking the world record for the world's biggest gang bang with a whopping 620 men in 1999, Houston says this is a feat that should never be challenged. No stranger to controversy, she also created quite a buzz when she afterward decided to not only publicly announce the trimming of her labia, but reportedly sold her labia in an online for an estimated $50,000. Houston tells us her labia was won by the owner of the Bunny Ranch, where it is on his display case for everyone to see. Houston has released a an autobiography, 'Pretty Enough' detailing her life's adventures.
Latest Updates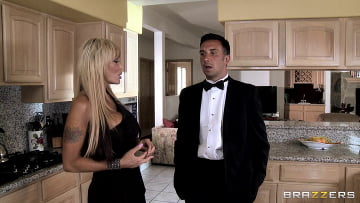 27th August
- Houston is stuck sitting through yet another one of her husband's boring parties. She and the other wives decide to pass the time by having the SEX GA
MES, and Houston has her eye set on Keiran. Nothing quite like boning the boss's wife!
...Read More