What's better than a juicy bubble butt? Nothing, except maybe seeing how that round butt jiggles as it's pounded by a huge cock. Kaylynn has her half-Puerto Rican heritage to thank for her incredible badunkadunk. Before ever starting porn, this tough broad worked as a security guard and a stripper. While dancing, she realized showing off her thick booty was her calling in life and made a move into shooting porn scenes. In her scenes she straddles the cock, grinds her hips into it, and fucks like a cat in heat. Kaylynn is such a talented blowjobber she won the 2001 and 2002 XRCO Awards for Orgasmic Oralist. Kaylynn explains it's just in her nature to worship dicks, and that whenever she meets a big black cock, "I wanna suck the fucking color off of it."
Latest Updates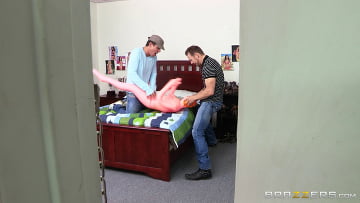 14th April
- Kaylynn's son is coming home for a bachelor party, but thanks to a flight delay, his buddies Mick and Erik got there first. They brought a blow-up dol
l as a gag gift, but having their buddy's mom see them with it is a little embarrassing. Mick and Erik try to make themselves scarce while Kaylynn finishes cleaning, but when she walks in on them playing with the blow-up doll, it gives all three of them an idea. Mick and Erik strip Kaylynn out of her tight black dress so they can worship her amazing titties for a while, and then Erik starts warming up her pussy with his tongue while she busies herself sucking on Mick's fat cock. She sucks and fucks both of their hard dicks before spreading her legs wide for a sweet double penetration! Mick and Erik fuck all of Kaylynn's pretty little holes and then blow a couple of big loads on her smiling face, because nothing gets a bachelor party going like a little DP!
...Read More