Blonde hair, red lips, big delicious tits, and one sexy European accent. Introducing Margo, a wild sex fiend straight from Europe. She may not have many Brazzers scenes at the moment, but you're going to see more of Margo very soon. Her snow white skin accents her fit slim body and her seductive thick lips let you know how well she sucks a cock. We'll let you in on a secret. Margo is the hottest European sex kitten around.
Latest Updates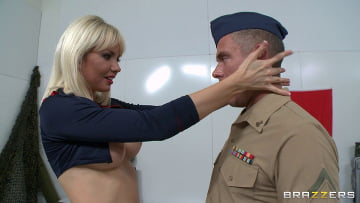 22nd October
- Officier Mick throws out a desperate, long shot video asking model, Margo, to the ball. By random chance, model Margo stubbles across it and decides t
o make Mick's dream come true, but not before giving Mick what he deserves for serving the country.
...Read More