Easy going, free spirited and fun, Zoe Clark loves cracking jokes almost as must as she loves taking dick! The Nevada native chose her name for a very specific reason; "Zoe is a slutty, sexy name and it fits me and my personality. Slutty and sexy!" 'Zozo,' coquette to the core, loves to get dirty and scream a lot during sex. A wild woman, Zoe's claim to fame is her self-described savvy for "eating" dick instead of simply sucking it. Zoe doesn't just want to lick around the shaft, she wants cock crammed as far down her throat as possible! Zoe is a complete bad girl, and this little slut is eager to have her holes pounded, her throat fucked raw, and her face covered in cum!
Latest Updates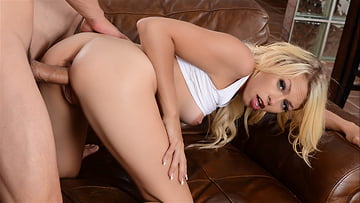 9th June
- Zoe is anxious to spent some quality time with Bambino, but her Dad always seems to ruin their special moments. It must be frustrating trying to take
down Bambino's massive cock, when her Dad keeps interrupting. She decides to take the chance to get her pussy pounded on the couch. If she can hold the moan, what's the worst that can happen?
...Read More